The Portage Flyer
Asked to think of the shortest railway in Ontario past or present, some might opt for the 8 km long Thousand Islands Railway that once connected Gananoque, Ont. with Gananoque Jct. on the former Grand Trunk Railway's Montreal-Toronto main line; or perhaps for the Flos or Medonte tramways in Simcoe County.
HISTORY
Just east of Huntsville, Ont., however, between 1905 and 1959, a short narrow gauge railway (only one and one-eighth miles in length, self-billed as "the shortest commercially operated railway in the world"), used to connect Peninsula Lake (at North Portage) with the Lake of Bays (at South Portage).
The Northern & Pacific Junction Railway had reached Huntsville in 1885 and thus opened up the northern Muskokas to commerce, tourism and a vacation retreat for the well-to-do. Officially "the Huntsville and Lake of Bays Railway", this diminutive shortline came into being to provide a portage connection between Peninsula Lake east of Huntsville, and the northerly tip of the Lake of Bays. Unofficially, it was "the Portage Railway", more familiarly "the Portage Flyer", affectionately "the Hot Tamale" (because of the engines' propensity to blow their fire out of the stacks), or with the dry humour of its employees "the Corkscrew route".
In the late 19th century, a local entrepreneur, Captain George Marsh, had established a sawmill at the foot of Marsh's Falls on the Oxtongue River near Dwight, and gradually built up a steamer service on the Lake of Bays and on the Vernon-Fairy-Peninsula Lakes chain that also adjoined the Huntsville railway station.
What was needed to facilitate transportation between these two water systems was a portage link. In 1900, Capt. Marsh obtained a charter to construct a standard gauge (4 ft 8½ in) railway between the two waterways. Work began in 1903, but with a gauge of 44½ in. because that was the gauge of the used equipment bought from the E.B. Eddy Company in Hull, Que. The railway started operating in 1904, and went into full service in 1905. 
Its terminus at Peninsula Lake became North Portage, and at the Lake of Bays, South Portage.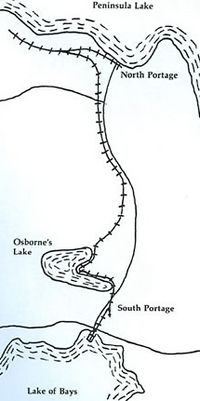 Sadly, Captain Marsh did not live to see his vision go into full service. His railway and steamboat service was acquired by C.O. Shaw, owner of the Anglo Canadian Leather Company in Huntsville. The steamboat service was expanded, and Shaw opened the famed Bigwin Inn in 1920.